Watch it on youtube: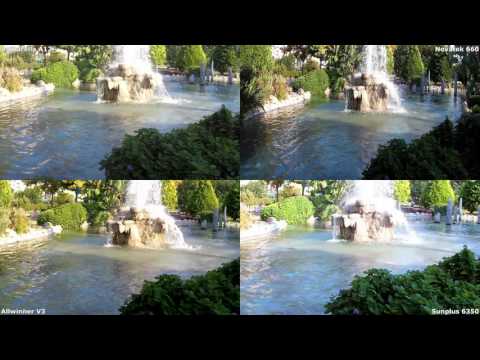 or
Download video in lossless quality (450MB):
https://drive.google.com/file/d/0B4t...ew?usp=sharing
Some screens:
Video showing side-by-side comparison of 4K-recording capable (or claimed as capable) action cams based on different SoCs.
Hardware tested (4k footage specs). No brands or models here:
Ambarella A12
action camera (3840x2160p30, h264, 60Mbps),
Novatek NT96660
based cam (2880x2160p24, h264, 32Mbps),
Allwinner V3
powered device (3200x1800p30, h264, 26Mbps),
Sunplus SPCA6350
cam (3840x2160p25, MJPEG, 60Mbps).
Framerates were aligned to 29.97. Videos were cropped without resizing or any other filters and combined into side-by-side layout. Resulting video was encoded with h265 codec (HEVC) at ~80Mbps bitrate, so your PC should be powerful enough to play it without lags (I suggest to use MPC or VLC video player).